Dogpatch was a theme park based on the Lil' Abner comics that existed from 1968-1993. It's been defunct since that time and its abandoned grounds have become overgrown, crumbling. Here are some amazing pics of Dogpatch.
What is oddly affecting about this is how cultural forces that seem like juggernauts can become relics in a matter of a decade or two. Lil Abner ruled the world in the 40s or 50s, or at least the comics pages (which meant a lot more then than now). If you think about it, it's really incredible that a fictional character engendered a high school dance that's widely held even today. Yet how many high school students would know where Sadie Hawkins came from? .001%? I had no idea until recently. My only exposure to the Abnerian mythos growing up was from Fred and Barney Meet the Schmoo. And that was 30 years ago. Couple this with the fact that said Abnerian mythos is…deeply disturbing-such a panoply of caricatures carved like tiny windows into Al Capp's black heart.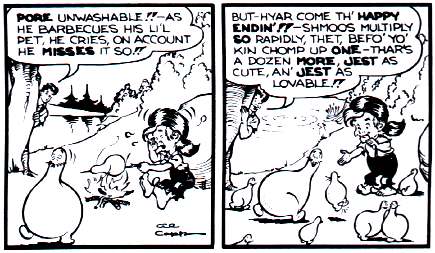 To have that Dogpatch overgrown is probably the most fitting coda possible-the misconstrued, delusional landscape softened by vines and nests. And no one really knows who Al Capp is anymore.