This is a semi-double post, but from the treasure trove of International Superheros, this is the best. superhero. ever. From the Philippines:
Flash Bomba was man who lost the use of his legs in an accident. Because of this, he trained the rest of his body to an incredible level of athletic ability and did everyday stuff using his hands to compensate for the loss of his ability to walk. Eventually he heard a rumour about a "Tikbalang" (a mythological creature with the body of a man and the head of a horse) who would grant powers to anyone who could defeat it in battle. Flash Bomba challenged the Tikbalang and set a time and place for the battle. He defeated it despite his physical limitations and the Tikbalang granted him superpowers. But as a jest, the Tikbalang gave him powers that made him look awkward. Flash was given the Tikbalang's magic hair, said talisman allowing Flash to transform into his super-powered version - a being with large hands and feet, as well as superhuman powers. Using his new abilities, he became a crimefighter.
The picture seals the deal: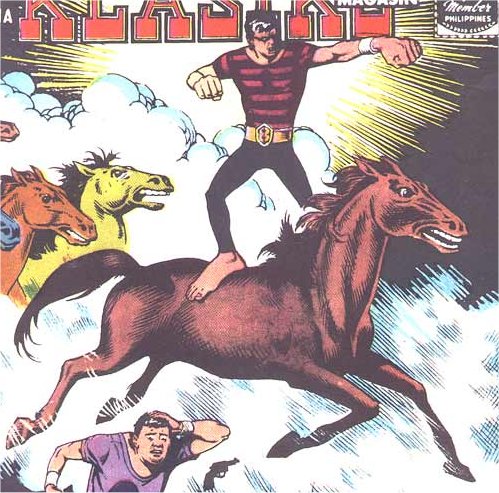 Fuck. Yes.