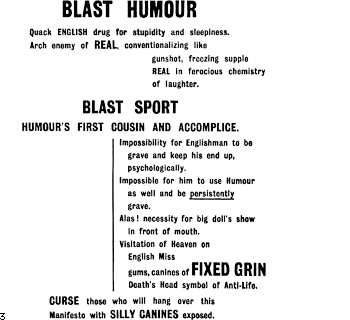 In regards to Infernokrusher fiction, I've been finding all of these strange parallels between it (as nascent as it may be) and Vorticism, a brief arts and writing movement created by Wyndham Lewis (coined by Ezra Pound) around 1913-1915. Which I knew very little about until I started googling. But there are some uncanny connections.
Here are a few notes on the first issue (of only two!) of the prime Vorticist publication:
BLAST is now considered one of this century's examples of modernist expression and typography, both historically indispensable and a milestone in modern thought. To the artistic audience of its time, the first issue of BLAST came as a brutal shock (Lewis's plan was to create a "battering ram")… Described by Lewis as "violent pink,"but by some others as the "puce monster," [emphases mine] the large format magazine displaying radical typography and design, featuring a "Vorticist Manifesto" and eye-popping lists of items to be "Blessed" and "Blasted." "Blasted" are, e.g., France, English Humor, Victorianism, aesthetes, the Anglican Church, popular writers and composers, do-gooders, sportsmen; "Blessed" are British Industry, trade unionists, aviators, music hall entertainers, hairdressers, ports, and members of the avant-garde….
Hot pink and puce monsters, friends.
And this is my favorite quote from the Vorticist manifesto:
Elephants are VERY BIG. Motor cars go quickly.
So what does this mean? First of all is the caveat not to take this too seriously, or literally. After all, the molten horrors of WWI did strange things to the brains of Wyndham Lewis and Ezra Pound. We're looking back 90 years through a series of looking glasses that we'll probably never understand. (Ben et al. might have more to say about this; certainly, in regards to Pound, his complicated legacy certainly doesn't mean that one shouldn't engage with it.
At the same time…the 21st century is nothing if not an age of syncreticism and poaching, and we can take from the Vorticists (if we want) what we will, much like the Romantics stole what they found valuable from Milton. And in the 21st century, a lot of shit is being blown up all around us. Affordable housing blown up for megamansion tracts, M.O.A.B.s ("designed for psychological operations"), the social safety net, villages on other continents, etc. etc. A multitude of other disjunctive spectacles:
Can fiction be fun and elegaic at the same time?
And still be a great substitute for the crappy branding that is "slipstream"?
Let's hope so.
Also, we'll do our best to be kind to each other. Because Wyndham Lewis was kind of an asshole.